Back to News
Jensen Partners Infrastructure Newsletter: What to expect from the infrastructure sector in 2021
In the latest Jensen Partners newsletter, Infrastructure Specialist and Managing Director George Lewis takes a look at the fast-growing infrastructure sector and what tailwinds marketing specialists should be aware of going into 2021.
2020 was certainly a unique year that many will choose to forget, but we can't dispute the societal shift at multiple levels. In an increasingly divided world, there has be a few points of unified consensus. These points include our reliance on digital infrastructure, global initiatives to target climate change and the omnipresent importance of ESG accountability at both a Fund and Investor level. At the forefront, Covid-19 has highlighted the critical role of infrastructure in our societies and economies against the widespread disruption that the pandemic has wrought. For investors it has been significantly more challenging to invest with a 20-30-year view. Within this context, the defensive and long-term characteristics of the asset class and combined investment approach that embodies ESG integration will really come into play.
There is no doubt that infrastructure has been an asset class that recognises the interaction of social and environmental risks and impacts on the financial outcomes earlier than others. This has resulted in the widespread view that this is a golden age for Infrastructure Investments backed by momentum of societal requirements and political sentiment. To this extent, the opportunity for private markets to play a defining role in the context of global demand for Infrastructure Investments has never been clearer. At Jensen Partners, we are immersed in constant dialogue with Infrastructure managers who are refreshingly positive about the outlook and benefits that private capital seeks to enhance across multiple sub-sector essential infrastructure channels.
The infrastructure Investment Private Fund market commands $700bn globally in AUM and growth projections anticipate that this will hit $1trn by 2023 and accelerate further to annual demand of $3.3trn by 2030. This will require significant private capital in addition to government spending, in an age where countries already faced a gap between infrastructure needs and financial resources before the pandemic hit; the gap is now significantly larger as a result of it. Infrastructure Fundraising in 2020, the year of digital meetings was actually a comparatively a very strong year (despite the obvious challenges) with$103bn of institutional capital raised across 79 funds (down from $118bn and 101 funds in 2019) that successfully closed fundraising targets this year. This is against the competitive backdrop, for which Preqin states that "there have never been so many funds in the market before, with 248 funds targeting capital, with the greatest proportion falling into the $500-999m bracket".
The following charts are sourced from Infrastructure Investor's Fundraising Full Year 2020 Report, available here: https://www.infrastructureinvestor.com/fundraising-reports/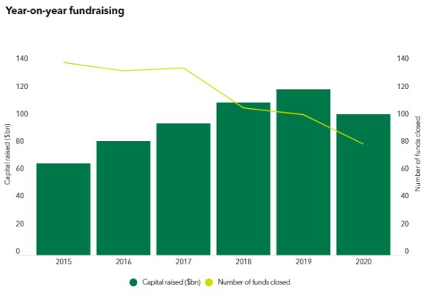 However, in an increasingly competitive market, the behemoth infrastructure funds continue to dominate with nearly 2/3 of capital raised in 2020 coming from the 10 largest funds in the market including Brookfield's $20.6bn fundraise for Fund IV and Antin's $7.4bn fundraise for Fund IV. 2021 looks like a similar story with EQT Fund V (targeting $15.2bn) , ISquared Global Infra Fund III and StonePeak Fund IV expecting to hit fundraising targets of $12bn respectively for their multi-regional funds. Investment into Digital Infrastructure and Renewables also demonstrates continued resilience and LP interest as reflected by Digital Colony Partners Fund II (targeting $6bn) and CIP Renewables Fund IV (targeting $6.7bn) representing the largest renewables infrastructure fund ever raised. Private Equity
firms have also surpassed records in 2020 for North America-focused infrastructure fundraising, raking in
$52.3bn, Preqin data shows. That's $1bn more than they raised in the previous record year of 2019, and puts total unspent cash earmarked for infrastructure investments in the region of $102.8bn. Furthermore, given the relative early age of the asset class and its long-term investment credentials, there is also significant opportunity in the secondaries market as evidenced by Blackstone's affiliate Strategic Partners InfraFund III raising $3.6bn in 2020 to deploy into secondary investment opportunities.
The Infrastructure Secondaries market creates another interesting and growing investor sub-sector and greater liquidity for the asset class that will also continue to evolve at an encouraging pace. In general, well-progressed and well-known managers will continue to be able to raise money. The dominance of the larger funds seems set to continue, whilst new market entrants and first-time fundraises will struggle to raise capital in this highly competitive market. Whilst Multi-regional funds have continued to dominate fundraising (with $53bn of capital raised in 2020), there has been a regional shift towards North American investment strategies overtaking Europe for the first time by roughly $3.6bn, with $15bn raised this year vs $11.4bn for European focused investment strategies.
The crisis has also highlighted the importance of sub-sector Infrastructure diversification. The historically high-performing transportation sector has been a clear example that Infrastructure Managers cannot put all their eggs in one basket. Since the COVID-19 crisis hit, passenger numbers for air travel have been at a record lows, down 90%, at levels not seen since the 1950's. In comparison, other sectors have
demonstrated resilience and defensive characteristics over the crisis including communications and digital infrastructure given the demand for companies evolving into the new model of working from home.
Environmental concerns have also highlighted requirements for increased investments into Renewables Infrastructure as demonstrated by President Joe Biden's $2 trillion campaign plan to upgrade the nation's infrastructure and combat climate change by eliminating carbon emissions from the power grid, putting Americans in electric vehicles and funding zero-emissions mass transit. The political uncertainty of 2020 with the US election impacted Infrastructure Investment in North America with $88.9bn of Infrastructure deals in North Americas (as of 8th Dec 2020), a decrease over the record of $226.5bn for all of 2019, but above the full-year total in 2018, according to Preqin. The age of the Biden administration could be a timely readjustment to reflect the sentiment behind Infrastructure growth and combined public and private capital commitment to invest into the asset class.
Crises by nature have a way of accelerating change. This is a time of immediate and sustained change, which might otherwise have taken years. This shift has also been captured by Infrastructure managers seeking to raise capital for next generation infrastructure funds to secure anticipated growth across the Infratech and its value in enhancing traditional infrastructure businesses via digitalisation of infrastructure assets and demand to shift away from conventional forms of energy towards Renewables.
There will be lasting changes to human behaviour, to global distribution networks, supply chains, food infrastructure and cold storage to biotech and primary care businesses. As a result, Digital, Telecommunications, Renewable and Utilities Infrastructure have emerged as the most popular areas of growth that will undoubtedly continue into 2021. Added to that is strong emphasis and LP commitment to invest into green infrastructure to fulfill ESG commitment goals. Finding the balance for communicating both the investment and sustainability case is one of the defining characteristics of the asset class cajoled by the opportunity to make significant social impact and decarbonize our economy whilst generating future-proofing returns.
Over the long term, infrastructure will likely be one of the few asset classes that could come out of the crisis better than it went in. The last time of significant market disruption, which was the GFC, Infrastructure was relatively new as an asset class for many investors. There were significantly fewer investors, and the track record was not really there. This is the first test for infrastructure and its resilience as an asset class will likely become more evident over the coming years as we emerge into a hopefully optimistic and progressive post-COVID era.
Sincerely,
George Lewis
Managing Director - Private Markets & Alternatives https://www.linkedin.com/in/georgelewis/
News Articles on Infrastructure
Here is a selection of recent articles about the infrastructure industry that provide additional color on this topic.
Bloomberg: KKR Raises $3.9 Billion in Biggest Asia InfrastructureFund
Citywire Selectors: Amundi launches multi-manager infrastructurefund
Financial Times: Sunak set to launch UK infrastructure bank to fund capitalprojects
Infrastructure Investor: AllianzGI beats target to close global infra fund above €1bn
Infrastructure Investor: I Squared raises $800m for infra debt ahead of official launch
Infrastructure Investor: Brookfield on track to raise $3bn for latest infra debt strategy
Infrastructure Investor: II 50: Infra's resilience shines through in its fundraising
Infrastructure Investor: Commerz Real launches open-ended infra impact fund
Infrastructure Investor: Nordic pension trio to plug over €4bn into climate infrafund
Institutional Asset Manager: BNP Paribas Asset Management launches two new infrastructure debt funds
Reuters: GIP raises $2.8 billion in two infrastructure creditfunds
Wall Street Journal: Infrastructure-Investment Binge Is Set to Continue—With or WithoutWashington
Wall Street Journal: Lawmakers Set to Give Infrastructure a Fresh Look in 2021
Recent Infrastructure Moves
Here is a selection of recent marketing moves and promotions specific to the infrastructure sector. Moves are listed in alphabetical order by first name.
Adam Larkin joined Global Infrastructure Partners (London) as Principal in September 2020. He joined from Macquarie Group, where he was Managing Director.
Andrew Liau joined HIG Capital (London) in September 2020 to co-lead its infrastructure team. Previously, Liau was a Senior Managing Director in the infrastructure group at Ardian.
Anna Tachau joined Interogo Holding (Zurich) as Investment Principal, Infrastructure in October 2020. Tachau joined from Partners Group, where she was on the private infrastructure investment team for Europe.
Anne Lundberg joined Thornburg Investment Management (Chicago) in November 2020 as Head of Institutional Distribution. Lundberg was previously Co-Head of Institutional Distribution, and Head of North America Consultant Relations at GAM.
Blake Ammit joined Arbitrium Capital Partners (Sydney) as a Managing Director in December 2020. He joins from FC Capital, where he was Head of Asset Management.
Caine Bouwmeester joined DIF Capital Partners (London) in November 2020 as Managing Director. He joined from Green Investment Group, where he was Senior Vice President since August 2017.
Claire Dawson, Senior Client Experience Manager, left AMP Capital (Sydney) in December 2020. Her new position is TBD.
Damian Hotz joined IFM Investors (Zurich) in a business development role in August 2020. He joined from SUSI Partners AG, where he was Head of Client Services.
Dhruv Dave joined Copenhagen Infrastructure Partners (Copenhagen) as a Senior Financial Analyst in September 2020. He joined from Total, where he was a Senior Economist.
Feriel Feghoul joined Arcus Infrastructure Partners (London) in July 2020 as Senior Investment Director. Feghoul joined from Wren House Infrastructure, where she was Director.
Fiona Southall has joined the Investor Relations team at InfraVia (Paris) in January 2021. Previously, she worked in Senior Specialist Sales, Private Markets at Edmond de Rothschild. ❖
Florian Trapp joined Partners Group (Zug) in 2020 as a member of their Private Infrastructure Group Europe in December 2020. Trapp joins from Antin Infrastructure Partners, where he was Investment Director.
Gab Barbaro joined Wren House Infrastructure Management (London) in September 2020 as Managing Director. He joined from British Gas, where he served as Managing Director, British Gas Business.
Giorgia Bulgarelli joined Equitix (London) as an Investor Relations Associate in November 2020. She joined from JP Morgan, where she was an Investment Banking Associate.
Gregor Jackson joined Daiwa International Capital Partners (London) in October 2020 as Founding Partner. He joined from Dalmore Capital, where he was an Investment Director. ❖Gustavo Coito joined Interogo Holding (Zurich) in October 2020 as an Investment Director. Coito joined from SUSI Partners AG, where he was an Investment Director.
James Wardlaw joined Federated Hermes Infrastructure (London) in December 2020 as Partner. He joined from Campbell Lutyens, where he was an Advisory Director.
Louis Valles joined Vauban Infrastructure Partners as an Analyst in Investor Relatoins in September 2020. Valles joined from Generali Global Infrastructure, where he was an Analyst in Investor Relations.
Luke Henderson joined BlackRock (Newport Beach) in October 2020 as Director. Previously, he worked as Director of Institutional Sales at AMP Capital.
Macky Tall is set to join the Carlyle Group (Washington, D.C.) in Spring 2021 as co-chair of the firm's infrastructure group. Tall joins from CDPQ, where he was Head of Private Equity and Real Assets.
Marcel Beverungen joined DIF Capital Partners (Frankfurt) as Senior Director in August 2020. He joined from Rothschild & Co., where he was Director of Energy & Power.
Ole Kjems Sorensen joined Copenhagen Infrastructure Partners (Copenhagen) as Partner in September 2020. He joined from Orsted, where he was Executive Vice President, Onshore Wind & Corporate Development & M&A.
Pierre Boschin joined DIF Capital Partners (Paris) in September 2020 as Senior Director. He joined from Messier Maris & Associes, where he was Managing Director.
Racheal Warne joined AMA Finance Brokers (Australia) in November 2020 as a Finance Broker. Previously, Warne worked at AMP Capital, where she was Business Development Manager, 3rd Party Distribution.
Rebekah Swan was promoted to Managing Director & Head of Clients at AMP Capital (New Zealand) in November 2020. Previously, Swan held the title of ESG Investment Specialist.
Robert Todd joined CIBC Capital Markets (London) as Managing Director in December 2020. He joined from HSBC Global Banking & Markets, where he was Global Head of Power, Utilities & Renewables.
Sean Maguire joined Impax Asset Management (London) in January 2021 as Managing Director, Private Equity and Infrastructure. He joined from Statkraft where he was Vice President, Commercial, European Wind and Solar.
Sterling Grol joined GI Partners (London) in October 2020 as Director and Head of EMEA Business Development. Previously, Grol worked as Partner and Head of Capital Raising for SoftBank Investment Advisers.
Taryn McGurk, Divisional Marketing Manager, left AMP Capital (Perth) in November 2020. Her new position is TBD.
Vivian Nicoli joined CDPQ (Paris) in September 2020 as Managing Director, Head of European Infrastructure. Nicoli joined from Eiser Infrastructure Partners, where she held the role of Partner.
Our Awards